Catamaran Sailing at its best
St. Thomas St. John, US Virgin Islands
BOOK YOUR CATAMARAN TOURS FOR:


BE SOCIAL SHARE THE ADVENTURE ONLINE:
---
---
Complimentary Catamaran Cruise!
Enjoy a Dinner Cruise or a Turtle Snorkel Trip aboard the Cat Call 340.693.4849 for details.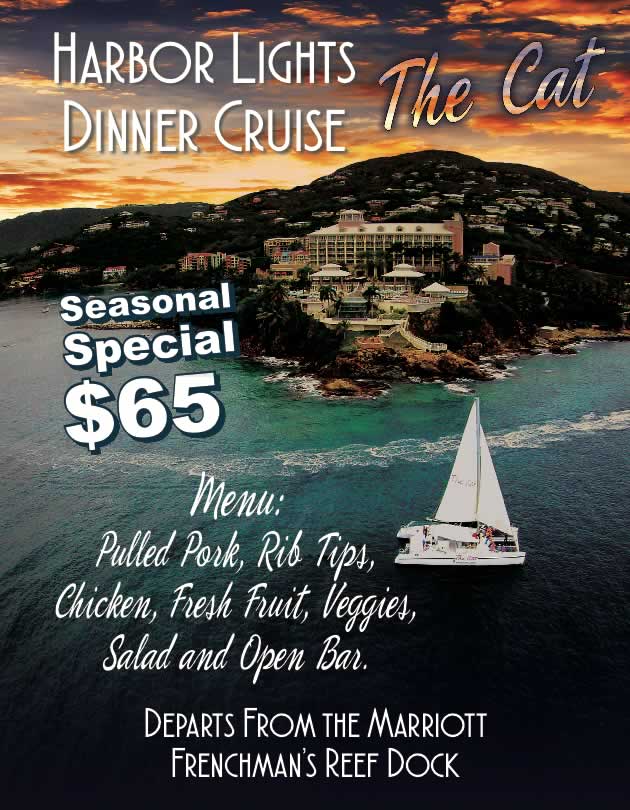 ---
[BEST ADVENTURE]
"It was our best adventure of a 2+ week incredible vacation! We can't stop talking about it!! Your entire crew was truly fantastic, everything was perfect, and we can't wait to come back! :) Below is video posted on our Facebook page
Sea Turtles, Fish and happy beauty of nature!!! :) This is our St. Thomas excursion in one song. Sure hope you all enjoy this. I wanted you to feel like you were with us, experiencing it.

Posted by Wes Hill on Saturday, May 16, 2015
[A WEEKEND AWAY]
Frenchman's Reef and Morning Star Marriott Beach Resort, St. Thomas
By Jamilah Lemieux | www.ebony.com
After seven years in the Big Apple, I have learned that the key to loving New York is leaving New York every so often. I declared recently that I would get out of here at least once a month; whether it's a week out of the country (it will rarely be that!) or a day in Philly, I got to get gone every few weeks in the interest of my sanity---and to keep the awesomeness of my adopted home in perspective.
Read More from source.